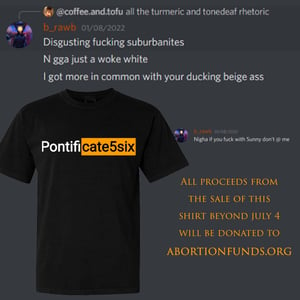 $

20.00
Recently a dying old man told me hate5six videos used to make him feel something, but not anymore. The way I "pontificate" on Twitter irreversibly altered his blood circulation, causing atrophy to various regions that were once potent. I asked him what "pontificate" meant and he didn't know. His eyes began to well up so I held him as he cried in my arms while the next band was setting up, the inescapable reality of senility setting in.  He breathlessly cried for me to stop occupying his mind so he could "perform" again. Ngl the whole thing was really strange.
He's no longer with us so 100% of all proceeds from this shirt will go to abortionfunds.org in honor of his memory.
S - 3XL available
Printed on Comfort Colors
Shipping internationally
Discounts available for hate5six Patreon subscribers. Info at the bottom
**TRIPLE CHECK YOUR SHIPPING ADDRESS
YOU ARE RESPONSIBLE FOR YOUR MISTAKES**
Want a discount? Patreon members get a discount code up to 25% off. More info: http://patreon.com/hate5six. Are you a current member with an expired code? Receive a new one by messaging me on Patreon or Discord.
Availability
Small - 100% in stock

Medium - 99% in stock

Large - 100% in stock

XL - 100% in stock

2XL - 100% in stock

3XL - 100% in stock