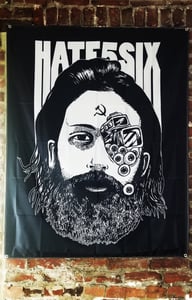 $

20.00
This is a pre-order and will ship in a couple weeks. All sales through July 4, 2022 will be donated to abortionfunds.org.
48" x 37.5" banner
Shipping internationally
Discounts available for hate5six Patreon subscribers. Info at the bottom
**TRIPLE CHECK YOUR SHIPPING ADDRESS
YOU ARE RESPONSIBLE FOR YOUR MISTAKES**
vEyecarious represents countless eyes worldwide living through the hate5six lens. Concept and design by Jagat Suri (IG/@jagatsuri).
Want a discount? Patreon members get a discount code up to 25% off. More info: http://patreon.com/hate5six. Are you a current member with an expired code? Receive a new one by messaging me on Patreon or Discord.