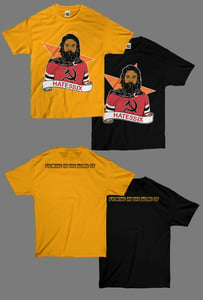 $

15.00
LIMITED QUANTITIES LEFT! These will only be printed again if there's enough interest in the future. Send an email to hate5sixproductions@gmail.com if you want to be notified if/when these are reprinted.
The hate5six/rage against the machine rips sold out almost immediately at This Is Hardcore. By popular demand this is a pre-order for a second printing so everyone who wasn't at the fest and wants one can have a chance. Shirts will ship in 2-3 weeks after printing, if not sooner. This will likely be the last chance to get this shirt.
Printed on both gold and black Alstyle, the reverse reads "FILMING IN THE NAME OF". Proceeds to help defray the operational costs of the site.
"These people ain't seen a brown skinned man since their grandparents bought one."
Illustrated by http://www.smaczylo.com/