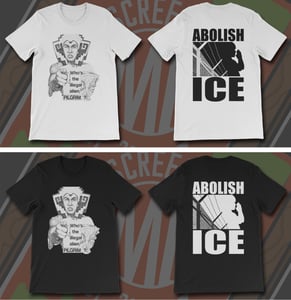 $

20.00
**PREORDER ONLY THROUGH JULY 13TH. THESE WILL NOT BE REPRINTED**
The US Government, through ICE Gestapo Agents, are ripping migrant children from their families at the border and placing them into concentration camps. Children are being housed in cages and forcibly injected with antipsychotic/sedative cocktails to quell their cries. [1]
As one author stated, this must be treated as a trial run: "To see the deliberate traumatisation of migrant children as a 'mistake' by Trump is culpable naivety. It is a trial run – and the trial has been a huge success. Trump's claim last week that immigrants 'infest' the US is a test-marketing of whether his fans are ready for the next step-up in language, which is of course 'vermin'. And the generation of images of toddlers being dragged from their parents is a test of whether those words can be turned into sounds and pictures. It was always an experiment – it ended (but only in part) because the results were in." [2]
hate5six has teamed up with ML Screenprinting to produce these shirts with 100% of the proceeds being sent directly to RAICES (https://www.raicestexas.org), which is working towards reuniting thousands of children with their families. The front is Yolanda Lopez' iconic, "Who's the illegal alien, Pilgrim?" offset lithograph.
No human being is illegal on stolen land.
Abolish ICE.
Abolish CBP.
Fuck all cages.
Demilitarize all police.
The Refugee and Immigrant Center for Education and Legal Services (RAICES) is a 501(c)(3) nonprofit that promotes justice by providing free and low-cost legal services to underserved immigrant children, families and refugees in Central and South Texas. RAICES is the largest immigration non-profit in Texas with offices in Austin, Corpus, Dallas, Fort Worth, Houston, and San Antonio.
[1] https://www.huffingtonpost.com/entry/migrant-children-drugged-without-parental-consent-at-government-institutions-court-documents-show_us_5b2a9e87e4b0321a01cd4dd3
[2] https://www.irishtimes.com/opinion/fintan-o-toole-trial-runs-for-fascism-are-in-full-flow-1.3543375?mode=amp
#abolishice #abolishcbp #familyseparation #immigrantchildren #raices #keepfamiliestogether #wherearethechildren #raices #nobannowall #evilempire